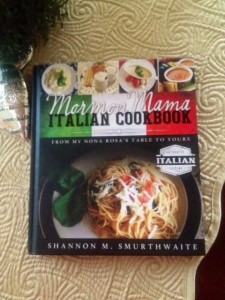 ARTISAN BREAD!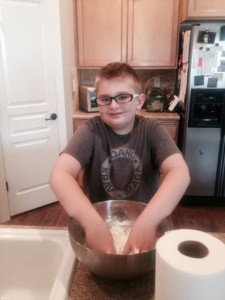 Meet Porter Smith, a fourth grader from Meridian, Idaho. He's a typical 9 1/2 year old (clearly proud of that 1/2 year) who loves Legos, football, Krav Maga self defense and pizza topped with sausage, pepperoni and pineapple. There is one exception – he loves making bread and navigates with ease around his family's kitchen. He and his father, Brittan, are my most recent reasons for dusting my hands with flour and trying Artisan bread … again.
Porter boasts, "My favorite part is getting the dough all squishy in your hands."  A couple of years ago, while living in Arizona, Brittan found an easy recipe for the two of them to try. It was a hit. With Porter's repeated success, it's his dream to head to Boise's famous Saturday Market and set up a Father and Son's booth to sell his yeasty creation. His mother, Darcy, said, "Even when Porter was very young he expressed his desire to grow up and live at home to cook for the family everyday."
As Porter was rinsing the sticky dough from his fingers, he told me he and his dad make three or four loaves twice a month, only keeping one loaf for themselves. The others get shared with friends and neighbors. His school teacher was a recent recipient. "She loved it, and kept eating small pieces of it all day," chimed Porter.  Butter, jam or just toasted, Porter loves his Artisan bread. And I agree!  For Porter's full Recipe, click my GOOD FRIENDS, YUMMY RECIPES! tab. You won't be disappointed!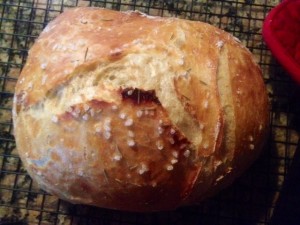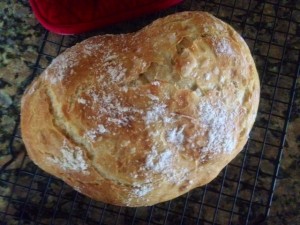 I love making this bread! Taken from a popular New York Times recipe which ran a decade ago, I can't stop preparing this. Only 4 ingredients… I've added my own twist to the recipe experimenting with cheese, oils and herbs.  My inspiration? A father and his young son. Their story and RECIPE coming next month. 

Welcome and Happy New Year! 
With the new year, comes a new web design. While I'm still a bit "under construction" as changes are improved daily, I'll be up to full speed shortly.
Find a new recipe, share a family favorite with us. Join me at a book event or blog tour, or let me know how you smother your pasta. It's all right here.  Click on any tab above, leave a comment if you feel impressed to do so….. Enjoy MY ITALIAN MAMA!
I'm a regular on facebook, Twitter and Pinterest, too. I hope you'll visit here often~ 
Blessings and joy in the coming year.
~Shannon