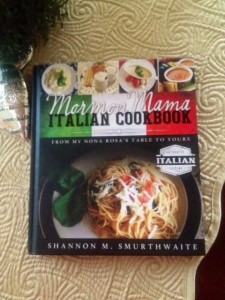 FALL 2014~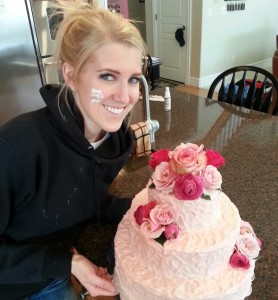 This month I introduce Andrea Ovard, AKA: The Baking Dietitian, to My Italian Mama followers.  As Fall is upon us she is sharing one of her treats perfect for tailgate parties, Halloween gatherings and weekend sweet tooth slaying.  Appropriately named, her Cinnamon S'more's Cupcakes will, indeed, keep you wanting "s'more."   Andrea is already a success at her young age, recently graduated from college and now working as a Clinical Dietitian at a large hospital in Utah. Her love of cooking and baking led her to this career. Always looking for a healthier version, never sacrificing taste, is her goal. My family and I have been the lucky recipients of her baking creations, each has been delectable! She is also a very successful caterer. Andrea started baking for family members birthdays and friend celebrations. Word spread fast about her yummy desserts. She has her own website: thebakingdietitian.weebly.com and blogs at: bakingdietitian.com featuring both healthy and a few not as healthy recipes.  For Andrea's Cinnamon S'more Cupcake recipe, click the tab: GOOD FRIENDS, YUMMY RECIPES

JULY 2014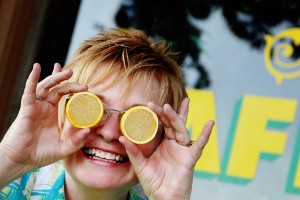 Summer time is lemonade time! Make your own and find a life lesson or two in the "mix." Meet my friend, Christie Northrup, Marketing director extraordinaire, successful business owner, philosopher of life and a terrific cook. She and her husband reside in Las Vegas, Nevada. Christie, tired of hearing the saying, "when life gives you lemons…", takes this philosophy one step further. "If you are having some sour situations in life, they can actually be dissolvable if you add something sweet, like a simple smile, to the experience." She adds, " I don't know many people who know how to make real lemonade!"  After some experimentation, Christie has developed the perfect thirst quencher.  You'll find her recipe on the tab: Good Friends, Yummy Recipes right here on my website. More about Christie and her other delightful products and promotions, visit her at: Pair-A-Bowls.com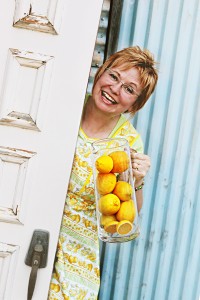 My recent article: Deseret News, June 17th, 2014 We've all done it. Praised a meal or dessert, then begged for the recipe from a friend, family member or co-worker. Then, when we try the recipe ourselves, it just doesn't turn out the same. Sometimes, it's a complete kitchen disaster and we're left to ask one question: Why couldn't I get it right? Here are a few things to keep in mind as you attempt to successfully reproduce that perfect dish and sidestep culinary disappointments. • In an attempt to replicate the recipe, we tweak it. Even small tweaks can make a big difference in how the dish turns out. Sometimes, we fall prey to the thought, "I wonder how it would taste if I just added a little …." It's OK to personalize a dish or meal, but you can overdo it, especially when trying a new recipe. When you're attempting a new dish, stick to the directions. • Maybe we lack all the ingredients or want to save money and decide to substitute. If a recipe lists butter, don't use margarine. Let's say you want to re-create a gooey, scrumptious chocolate bar a friend brought to a birthday gathering. While the recipe calls for semi-sweet chocolate, you substitute milk chocolate, which is all you've got in the pantry. Or, you fell in love with your sister-in-law's biscuits and gravy dished up at a family reunion. Of course, the recipe calls for buttermilk (which you don't have) so you substitute whole milk. Then, you scratch your head and wonder why it didn't taste or look exactly like the original. • Or maybe we try a shortcut that seems obvious, even though it's found nowhere in the instructions. Beware of shortcuts! They seldom work, and then you're stuck: You either start all over or serve up a meal that's less than what you hoped for. The following recipe is a prime example of why you should resist the temptation to substitute or cut corners. I've tried it multiple ways, and my attempts haven't had a happy ending. I always go back to preparing this recipe step-by-simple-step. No shortcuts allowed. Your second-grade teacher was right: Follow directions. Or pay the consequences. Remember, these are rules for attempting a recipe for the first or second time. Maybe after you've mastered it, you can stray a little from the recipe. Let's face it, part of the fun in cooking and collecting recipes is with repetition you can fine-tune a dish to suit your taste buds. But in the beginning, experience has taught me to stick with the tried-and-true instructions. When it comes out just right and people ask you for your recipe, you'll understand that it was worth all the effort. From my kitchen to yours, buon appetito.   Orzo and Rice 1 tablespoon olive oil 1/3 cup orzo pasta, uncooked 1 cup rice, uncooked 2 cups low-sodium chicken broth 1/4 cup water fresh cracked pepper Parmesan cheese slivered almonds, optional In a small frying pan, heat olive oil on medium setting. Add orzo pasta and saute 4-5 minutes or until golden brown. Stir well to keep from burning. In a large saucepan, bring rice, chicken broth and water to a boil, then reduce heat to lowest setting. Add sauteed orzo and olive oil mixture into large saucepan. Give it all a good stir, then cover with lid. Let simmer about 20 minutes or until all the liquid has been absorbed. Turn off stove and let the covered pan sit for 15-20 minutes. Fight the urge to stir until serving time. Garnish with remaining ingredients to taste. Serves 4- 6. — "Mormon Mama Italian Cookbook" by Shannon M. Smurthwaite Shannon M. Smurthwaite is a Southern California native. The mother of four children, she and her husband, Donald, reside in Idaho. She is the author of "Mormon Mama Italian Cookbook." Website: www.myitalianmama.com Email: shannonisitalian@gmail.com

MONDAY, JUNE 2: NATIONAL DAY OF ITALY!
Italian or not, preparing (and eating) PASTA is a fun way to celebrate National Day of Italy. Summer salads, topped with meatballs, in your favorite soup- the PASTAbilities are endless! Pasta 101: Let's Cover the Basics: Use your biggest stock pot when preparing a full pound of pasta. You never want more cooked pasta than pan! Salt, not oil, is the preference. Shake a teaspoon or two into your boiling water. That slightly flavors the pasta and keeps it from sticking together. Rolling boil is the point where the water typically will not stop bubbling by stirring. This is the point you want your pasta in the cooking process. If pasta is in hot, not boiling, water it may start to break down. When in doubt, read your pasta box or bag. Different shapes require varied cooking times. If pasta will be used for a casserole, slightly undercook it. Cooking will complete itself either in your oven or skillet. Just make sure you have the right amount of liquid to accommodate the second step. Pasta typically doubles in size at completion. It's one of those visuals to keep in mind while creating in your kitchen. You'll be surprised how quickly pasta can overcook. The result is mushy pasta, not a yummy taste nor appealing texture. "Al dente," or to tooth, means you should feel a slight resistance when you bite or cut into pasta with a fork. Al dente is perfectly cooked pasta for most dishes.  Buon Appetito!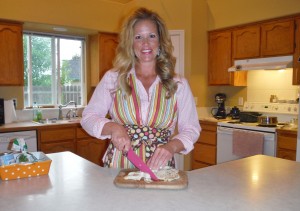 Meet my dear friend, Carrie Floto Paternoster. Her love of cooking didn't begin until she was a new bride. Carrie shares, "I have a wonderful Mother but bless her heart she was never much of a "cook from scratch" kind of gal. So I had to learn on my own."  She states that her confidence grew while watching favorite T.V. chefs and trying their techniques and recipes. Carrie knows her strengths, and I can attest to her desserts and catering. She is a master at cookies, cakes and pies or as she tells: all things desserts and baking. Carrie's culinary talents are self taught by "lots of practice." She and husband, Ryan, have been married 17 years and have 3 beautiful daughters. When she is not creating in the kitchen she is out running, working out, hiking, biking or shopping. Carrie is sharing her CHICKEN TETRAZZINI with us this month. Click on the tab: GOOD FRIENDS, YUMMY RECIPES for one of her specialties!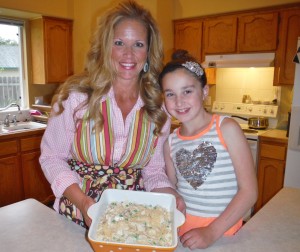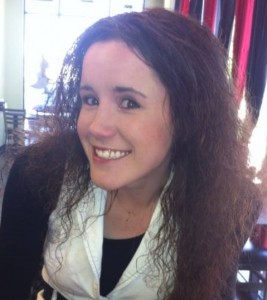 Meet Samantha Mello, a wonderful cook, new bride and an inspiration to all who know her. Her love of cooking began while watching her grandmother do her magic in the kitchen, which led to her own Easy Bake Oven as a child, and of course, mud pies in the family yard. She professes her culinary skills really developed while attending Boise State University, as a coed. She is inspired by Rachael Ray and is always eager to try new recipes. Her Roast Beef Pizza/ Philly Cheese Steak Pizza, featured here is amazing! She prepared it for our family about 5 summers ago and it was a hit! Of late, she has used my recipe for Perfection Pizza Dough (Mormon Mama Italian Cookbook, page 33) to prepare it. It is such a fun twist on our beloved traditional PIZZA obsession that it must be shared. I loved the way she smothered this in white onion. The flavors marry together for a unique dish. Couple her pizza with fresh fruit or a salad and you have a delightful meal. For the entire recipe click the tab: GOOD FRIENDS, YUMMY RECIPES. Thanks, Samantha!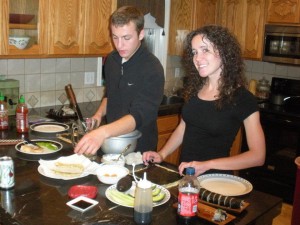 Samantha and Justin Mello
ARTISAN BREAD!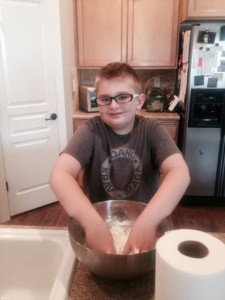 Meet Porter Smith, a fourth grader from Meridian, Idaho. He's a typical 9 1/2 year old (clearly proud of that 1/2 year) who loves Legos, football, Krav Maga self defense and pizza topped with sausage, pepperoni and pineapple. There is one exception – he loves making bread and navigates with ease around his family's kitchen. He and his father, Brittan, are my most recent reasons for dusting my hands with flour and trying Artisan bread … again. Porter boasts, "My favorite part is getting the dough all squishy in your hands."  A couple of years ago, while living in Arizona, Brittan found an easy recipe for the two of them to try. It was a hit. With Porter's repeated success, it's his dream to head to Boise's famous Saturday Market and set up a Father and Son's booth to sell his yeasty creation. His mother, Darcy, said, "Even when Porter was very young he expressed his desire to grow up and live at home to cook for the family everyday." As Porter was rinsing the sticky dough from his fingers, he told me he and his dad make three or four loaves twice a month, only keeping one loaf for themselves. The others get shared with friends and neighbors. His school teacher was a recent recipient. "She loved it, and kept eating small pieces of it all day," chimed Porter.  Butter, jam or just toasted, Porter loves his Artisan bread. And I agree!  For Porter's full Recipe, click my GOOD FRIENDS, YUMMY RECIPES! tab. You won't be disappointed!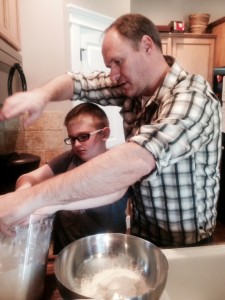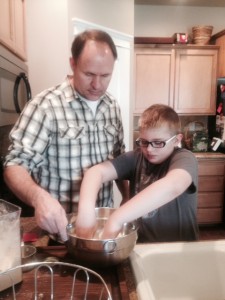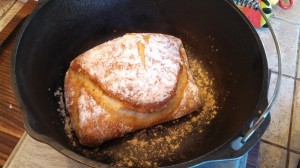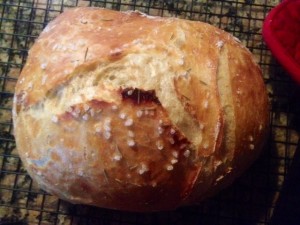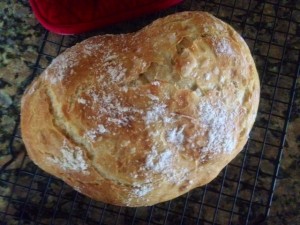 I love making this bread! Taken from a popular New York Times recipe which ran a decade ago, I can't stop preparing this. Only 4 ingredients… I've added my own twist to the recipe experimenting with cheese, oils and herbs.  My inspiration? A father and his young son. Their story and RECIPE coming next month.  Welcome and Happy New Year!  With the new year, comes a new web design. While I'm still a bit "under construction" as changes are improved daily, I'll be up to full speed shortly. Find a new recipe, share a family favorite with us. Join me at a book event or blog tour, or let me know how you smother your pasta. It's all right here.  Click on any tab above, leave a comment if you feel impressed to do so….. Enjoy MY ITALIAN MAMA! I'm a regular on facebook, Twitter and Pinterest, too. I hope you'll visit here often~  Blessings and joy in the coming year. ~Shannon